Without Investing Huge Amounts of Money
In today's climate of high inflation and high living costs, it might seem more difficult to create any wealth.
However, the incredible technological advances that are taking place today, give us incredible opportunities to amass great wealth in a very short time.
It might be difficult to always see these opportunities, but they are there, even if you have very little money to invest in them.
When I am talking about investment, I do not mean investing in the stock market. I mean investing in yourself by creating a business.
Today it is very easy to start your own online business, much easier than most people think. And you can do it on a shoestring.
Investing In Your Own Business
Again, I am not suggesting that you open a shop in your hometown. I suggest that you start your own online business.
Most people would say that online marketing is a scam but far from it. Not if you deliver products of real value to your customers.
Yes, there are scams and I have been caught by some in the past, but there are also genuine people who delivers excellent service to their clients.
I have fallen for the "gurus" that tells you that they can give you the secret to online success by buying their $999 system.
You subscribe and pay your hard-earned money reluctantly, just to find out that the real secret to making money is hidden behind another paywall.
You must pay another $5,000 to get access. BEWARE!
This is NOT What I Suggest You Do
My system is much simpler, and it is free with no strings attached.
And no, you will not see overnight millions, but if you follow the few simple steps, you will be able to build a lucrative online business with low input costs.
Why am I so confident that this system can work for you?
As an engineer, the one thing that you learn from an early stage in your career is that simple systems work better than intricate systems.
Take for instance a pickup square baler versus a round baler for lucerne. The square baler picks up the lucerne, compresses it into a square chamber and then binds it with two twines.
These square bales need to be picked up and stored in a shed to preserve it.
The round baler picks up the lucerne and rolls it into a round bale. It then just roles plastic sheeting around it to protect it from rain and the sun. The lucerne can stay perfect for years outside.
The square baler not just takes much more energy to bale the same amount of lucerne, but it has many thousands more moving parts than the round baler. More parts – more breaking.
The baling process with the round baler is also much faster.
A Simple System Will Always Be Better!

Simple One Product One Channel Online System
Let's first answer the question: "Why choose an online business?"
With the internet it is possible to reach a much larger audience than what was possible in the past. For instance, there are more than 6,9 billion smartphones in operation today. The total number of people in the world is 8,036 billion.
This means that in theory you can reach more than 85% of the world population.
Secondly with the internet you can deliver digital products or services instantly all over the world wherever people have access to the internet.
Thirdly it is very cheap to start an online business. You just need to create a website, load a description of your product or service with an image or video to explain it, and give a link to buy it. Instantly you are in business.
Instant gratification is what the world wants today and that is exactly what you can offer your customers with an online business.
Your next question: "What product or service can I offer that is in high demand?"
The thing that most people do with their smartphones is to take photos or videos. This is especially true about new parents.
The amount of data that people accumulate on their smartphones is staggeringly high and makes people vulnerable to data theft or just data loss when their phones are stolen.
The only way in which they can combat this is to make a backup of their phone data in the cloud.
There are free options like Dropbox, but the amount of data that you can upload is very limited (15GB storage).
Example: From about 2005 my wife and I went on missionary outreaches from South Africa to Mozambique each year. I uploaded just three years of my photos to Dropbox and then I reached my limit of storage.
To upgrade to get more storage would now cost me $11.99 per month for 2TB at Dropbox.
Today I need at least 800GB of storage to backup only my pictures and videos.
The other day I climbed to the top of a fertilizer tank and when I bent over to look inside, my phone dropped out of my breast pocket and fell into the liquid fertilizer.
Fortunately, it was only my work phone with very little data on it and all my contact numbers were also stored on my other phone.
I don't even want to think what my loss would be if it was my other phone!
Have you ever lost data, photos or videos that were valuable to you?
I think that you will agree with me that a solution to this problem with huge amounts of electronic data, would be something that everybody would like to get.
The Solution to Prevent Data Loss
There is a company that was first launched in Ottawa Canada in 1997 called GVO (Global Virtual Opportunities).
The founder and owner, Joel Therien, went on a cruise and his laptop with his backup external drive was stolen. Except from all his data, he also lost all the photos of their young children. All the memories were lost forever.
That is when he decided to create a solution that could help people to protect their data. His company developed software solutions like conference solutions long before Zoom became available.
In June 2007 they moved their business to Schertz San Antonio Texas to get more bandwidth for their operation.
They established their own huge, dedicated server facility. Today they can offer storage in the cloud for millions of users at a ridiculously low price.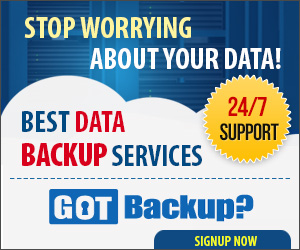 Their solution is called GOTBackup, and it offers you 6TB of cloud storage at just $9.97 per month or $99.97 per year. If you pay yearly, you save 16,4%.
Your Solution to Earn Money Quickly
Not only can you use this solution to protect your data and that of your family, but you can also resell this solution to others and earn commission.
Normally if you become an affiliate of a company, you can earn a commission of about 75%. With this opportunity you earn 200% in the first month. You also share in the profits of the company and get paid 25% on the earnings from your referrals.
This solution has been launched only two months ago and they already have more than 8,000 paid clients in more than 60 countries worldwide.
They launched their first service in 2004 and have sold more than 7 million to date. You can still get in on the ground floor today, but I don't know how long this door will be open.
My suggestion is that you act today to make use of this unique opportunity. It is like investing in Amazon two months after they launched. Today your investment would be worth several thousand times more.
You can still get access to this opportunity to start your online business today and start earning commission on your sales as well as your downline.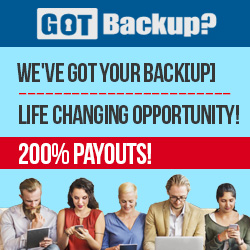 Reasons to Invest in This Opportunity
It is a reputable company with a great track record.
It is a service that anybody can benefit from.
They pay a much higher than normal commission.
You don't have to sell the service, just tell people about it and the company does the rest.
Even people who are not interested in the income opportunity love to use the product.
The competition is way more expensive.
If you invest today, you'll get free access to my M&M Membership where you learn to build your list quickly.
You will also discover how to build your website in less than an hour and you need only register your domain name.